It's in the event of a claim that we can really assess the quality of your insurance coverage. However, you can anticipate while focusing especially on 4 criteria when choosing your insurance agent.
Convince yourself of the quality of advice provided through the special attention paid by your agent in the analysis of your needs
Convince yourself of the insurance company's financial strength and of its compensation policy
Convince yourself of your insurance contract flexibility by its ability to fit your marital, family and financial status.
Convince yourself of your agent's responsiveness, ensuring a sound management of your files.
The General Agency Fränz Kill stands at your side
We are a professional LALUX General Agency operating in Luxembourg for over 10 years. With us, you take advantage of the benefits from a strong insurance company, whilst benefiting from the services of a professional agency close to its customers: customized and regular follow-up, professional advice, a.s.o.
Fränz Kill is at your service with enthousiam
"As a professional agent, my mission is to be a trusted advisor to all of my customers. I particularly enjoy the contact and exchange of ideas with my customers. That's why I'm keen to come to your location to assess your needs at its best. My experience and availability are my main assets."
Active since over 20 years in the field of finance and insurances, Fränz Kill has an MA in economics,  an MA in Tax Management and another one in Insurance Law. Speaking four languages (French, English, Luxemburgish and German), he enthusiastically shares his experience to the benefit of his customers. Transparency is one his main goals, therefore he takes the time to explain in detail the insurance contract he is offering. In short, he combines enthousiasm and professionalism while remaining close to his customers.
Additional services offered by the General Agency F. Kill
Our agency's services do not end there! We offer to our customers a very wide range of services: any real estate transactions, home-ownership savings, fiscal advice, life insurance, retirement saving plans, a.s.o.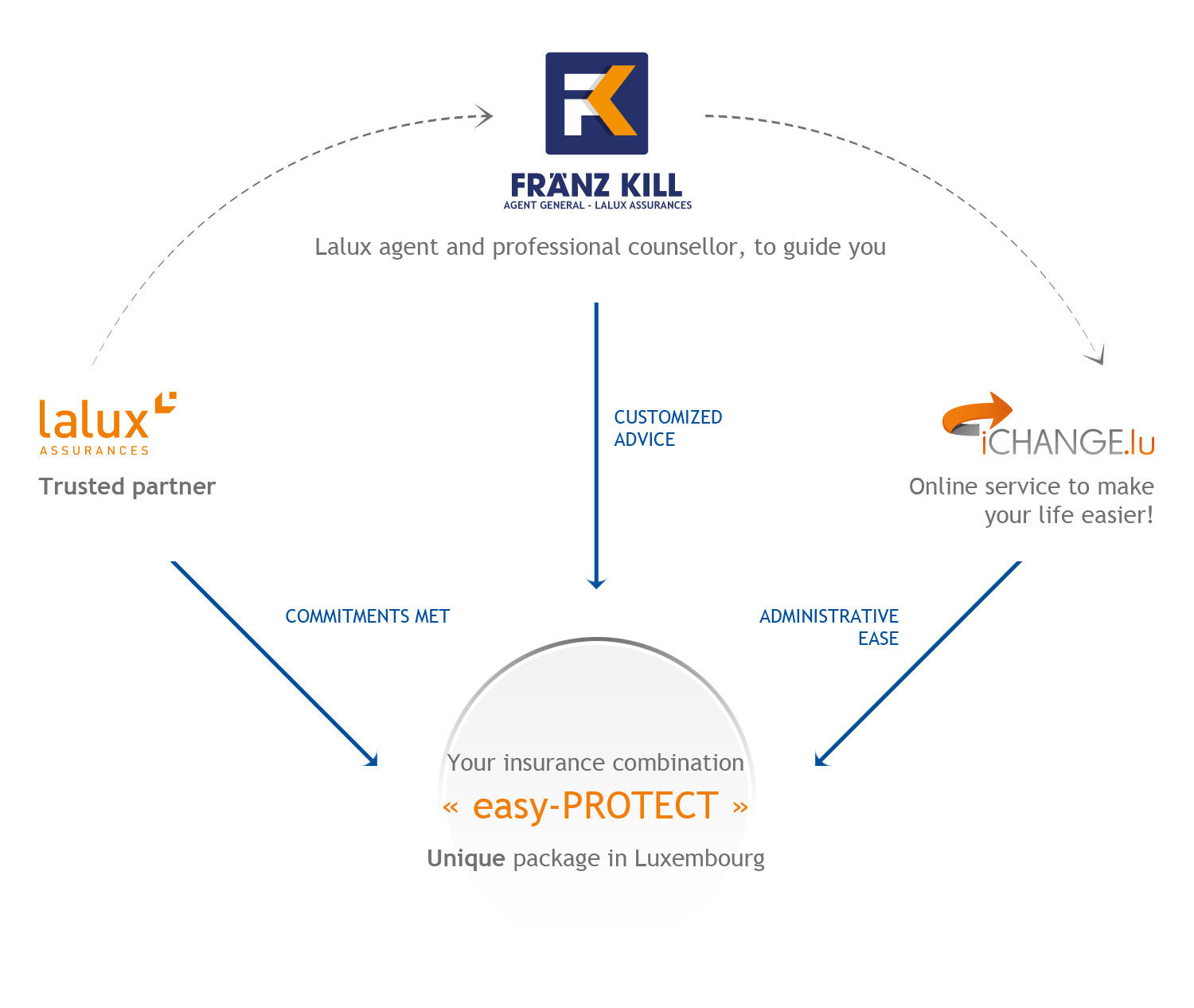 Expertise
Responsiveness
Speaking four languages (FR, EN, LU, DE)
Passionate
---
Testimony
Thank you for your very competitive offer and for integrating my personal accident cover into the package. Luca E. (Differdange)
Leave your own testimony